Transformation of the Day: Marquita lost 61 pounds. She had symptoms of diabetes but was not diabetic. She was diagnosed with metabolic syndrome. Tired of weight gain and symptoms like swollen feet and skin discoloration on her neck, she decided to make health her top priority. She had Gastric Sleeve surgery in 2019, and it's been a game-changer.
My name is Marquita, and I've struggled with my weight my entire adult life. In 2013, I had a tummy tuck. I was trying to cut corners, but without the right mindset, it was an epic fail. Within two years, I gained so much weight that my stomach was essentially larger than it was before the tummy tuck. I weighed 197 pounds when I got the tuck, and a few years later, I weighed about 225 pounds. From there, I continued to gain more and more weight. 
My doctor diagnosed me with metabolic syndrome. I had all the symptoms of diabetes, but I'm not a diabetic. I suffered from swollen feet, intense sweats, and a darkening neck [Acanthosis nigricans]. Nothing I tried would work. 
I got married in September 2018. On my Wedding Day, I weighed in at 267 pounds. After returning home from Las Vegas, my husband and I decided I would take advantage of his excellent medical benefits and have a Gastric Sleeve operation. On October 29, 2019, I had my VSG surgery, and it was the best decision I've made in my life.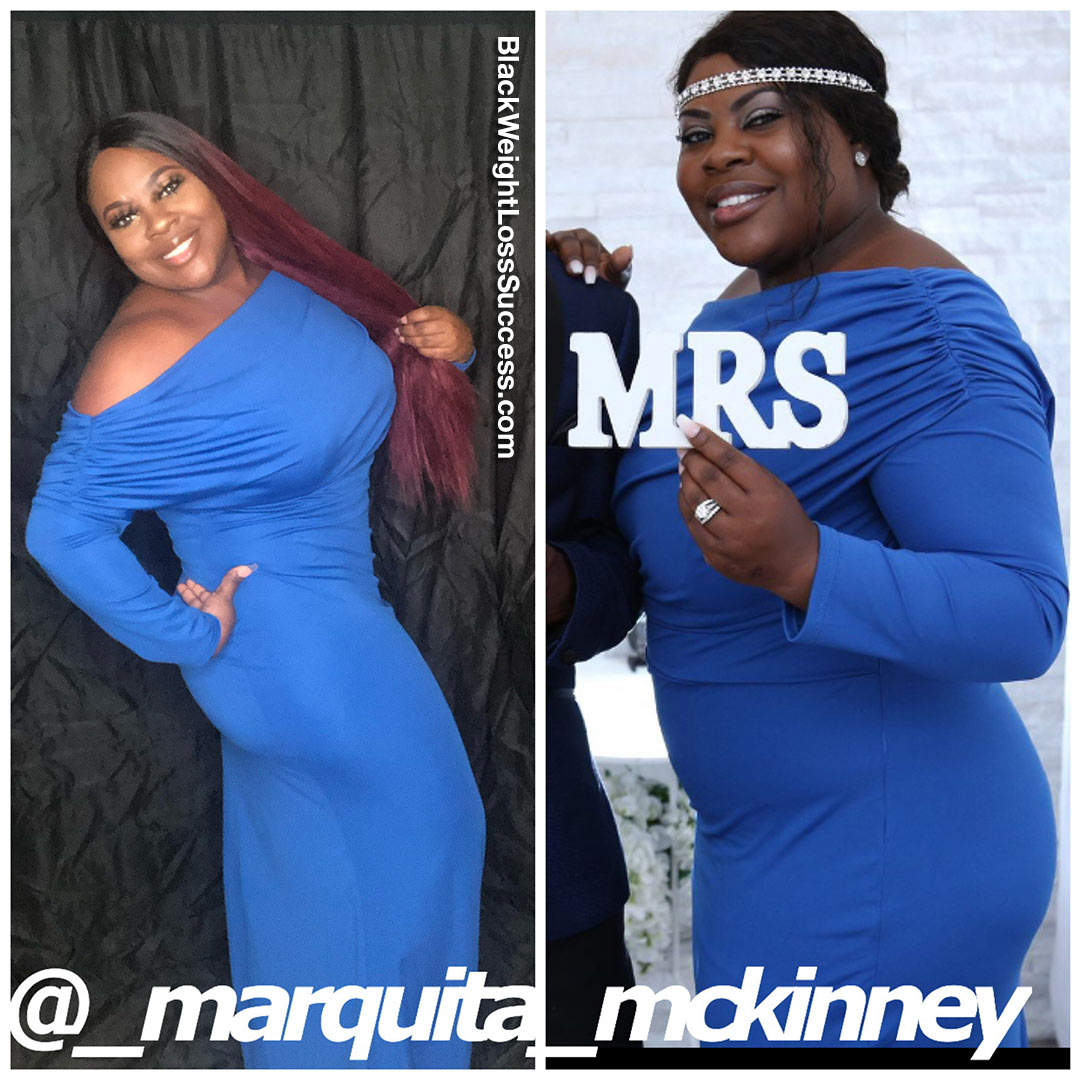 What inspired you to keep going, even when you wanted to give up? 
What inspired me was the desire to be here for my family. My health was declining fast. Knowing there was something I could do to turn it around pushed me in the right direction.
How did you change your eating habits after surgery?
Changing my eating habits was so hard, but the fear of undoing the results I achieved kept me focused. I stopped eating all my late-night sweet treats and focused more on low-carb and high protein foods.
What did your workout routine consist of? 
Cardio, cardio, and more cardio! Cardio was my main focus, along with training with light weights.
How often did you work out?
Daily! Sometimes even 2-3 times a day!
What is your current weight?
206 pounds is my current weight.
When did you start your journey? How long did your transformation take?
I started this journey (or should I say restarted this journey after several failed crash diets) in June 2018.
What is the biggest lesson you've learned so far?
The biggest lesson I've learned is that consistency is key. It's "mind over matter" if you want to be successful.
What advice would you like to share with women who want to lose weight?
If you don't like anything about yourself, CHANGE IT. We live in a technologically advanced world. If weight loss is what you need to boost your confidence or self-esteem, go for it. 
Always start slow and keep REALISTIC expectations. Be the best YOU that you possibly can! Lastly, anything is possible if you put in the work!
Instagram: @_marquita_mckinney