Overcome Anxiety with Exercise and Healthy Lifestyle. Jessica knew that Hitch Fit was the key to helping her get back to a healthy place (mentally, emotionally and physically) after 3 babies, and a build of anxiety and overwhelm that were happening in her life!
She worked with us back in 2012, and got in amazing shape after baby number one. She knew that the healthy habits that she would re-develop with a new Hitch Fit plan were exactly what she needed in order to get back on track, especially during the COVID 19 shutdown and the added stress that brought with it.
I'm so proud to share that Jessica tackled her plan (along with her friend Renee – they did a Couples Boot camp together!). She dedicated herself to the changes, knowing that the new positive thoughts, moving her body and fueling it well were going to help with anxious feelings and emotions that felt out of control.
This is an awesome story of how our health is so intertwined! Taking care of our bodies is truly one of the best ways to take care of our minds and emotional well being too. Way to go Jessica!
Jessica's Before and After Weight Loss Stats: 
Starting weight: 160
Ending weight: 140
Starting body fat: 32%
Ending body fat: 22%
Jessica's Before and After 20 Pound Weight Loss Photos: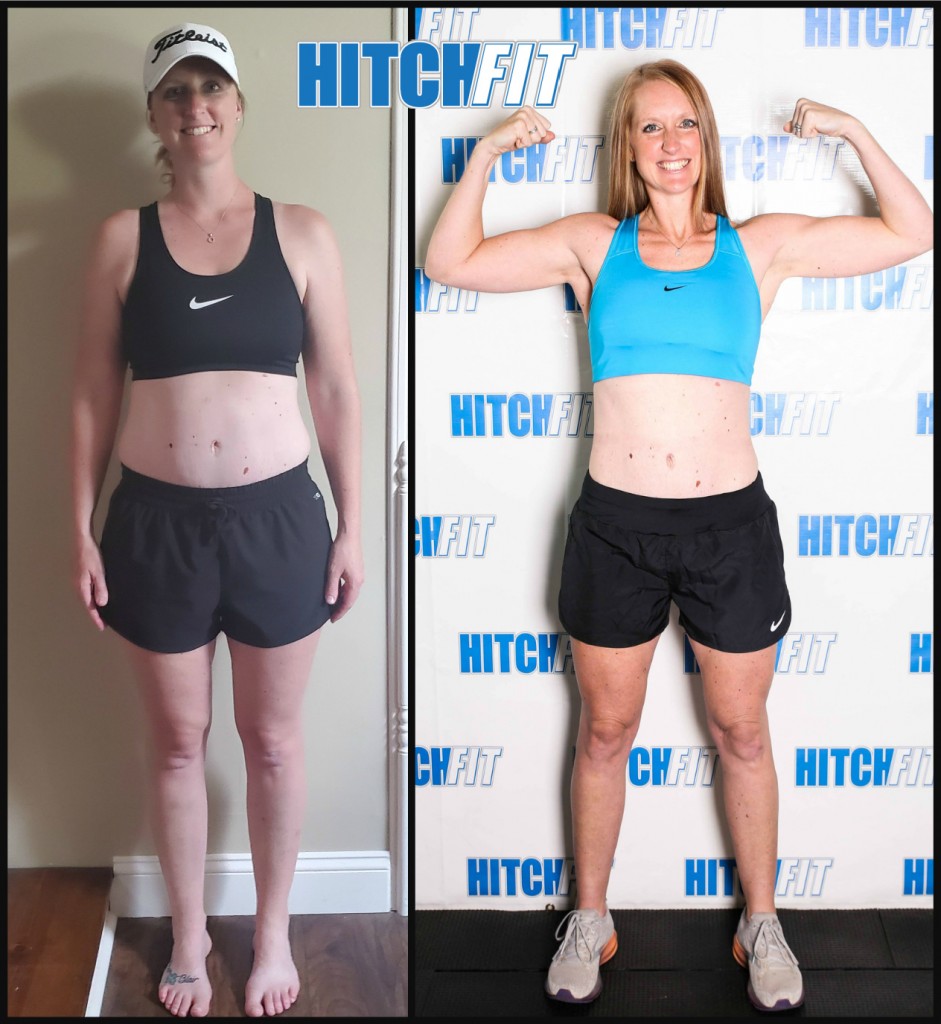 Jessica's Hitch Fit Review and Transformation Story: 
Fight Back Against Anxiety With Exercise and Healthy Eating
I'm back! This was my second "official" Hitch Fit transformation.
I completed my first Hitch Fit program back in 2012, with Micah, to bounce back from having our first baby (she was born in 2010, but it took me 2 years to finally feel ready).
In 2015, we had our second baby and knew I didn't want to wait as long to get back into shape, so I signed up for a half marathon and did the same Hitch Fit program, on my own, and got it done!
We welcomed our third baby in the fall of 2018 and I was determined to get back into shape with Hitch Fit, one final time, and stay there. (Side note: with all three babies, I was a weight gainer! I also had really big babies all over 9lbs and the last one almost 10lbs. I gained 50, 60 and, this last time, 83 pounds!)
Also, and most notably, with our last baby, I had major postpartum anxiety. Crippling anxiety. I didn't want to be around anyone, I didn't want to go anywhere, I didn't want any visitors, I cringed when the doorbell rang (even if it was just the UPS man).
I dreaded family get-togethers, and so on. I had a fog over my head. I always put on my brave, happy face, and trudged on, for my kids. My husband and I talked about it frequently and he encouraged me to go talk to our Dr. about it, and I'm not sure why, but I never did.
It got a little better when I was done breastfeeding (such a wonderful, yet emotionally draining blessing). I signed up for the Las Vegas marathon and completed it in November of 2019.
I was feeling better, yet. 2020 started and despite all of its challenges with COVID and homeschooling my kids, I was doing pretty well. Then, we had some personal issues and that was the final straw.
It bore more weight than I had ever imagined it would and my anxiety started to creep back in at a rapid pace. I was not only in terrible shape (for me), my attitude was horrible, I was angry, I was letting hatred and unnecessary guilt fill my heart. It was time for a change.
I know that working out and being strong makes me feel great, so what I needed was a no brainer. I had been working out here and there, but I was super inconsistent on my own and discovered I needed and wanted the accountability check-in's and motivation from Hitch Fit to help me get back to myself.
Also, being 8 years older this time, I thought it may be time for an updated workout and nutrition plan. I convinced a friend to sign up for the 16 week Couple's Bootcamp with me, as she was also doing some soul searching.
Jessica and her friend Renee went through a Couples Weight Loss plan together!
I was excited to get back to feeling like myself, both physically and mentally/emotionally, and for good this time.
Improve Mental, Physical and Emotional Health
I was tired of my clothes not fitting, tired of feeling sluggish, tired of being negative, tired of being mad, tired of faking being happy, tired of just being tired – totally not me.
The mental aspect was just as important this time around, if not more important, than the physical transformation. All you mamas out there know exactly what I am talking about!
When you are a full-time working mother it is so hard to be the best wife, mom, employee, volunteer, etc. all at the same time and you often lose yourself along the way taking care of everyone and everything else first. And then to add this terrible anxiety and weight on my shoulders that I was feeling.
After going through my first Hitch Fit transformation, I learned (but lost sight of) that to be at my best, I needed to carve out some time for myself. Working out and being in shape fills my cup (and allows me to effortlessly keep up with my very active children!) and being in great physical condition absolutely comes hand in hand with being in great emotional/mental/spiritual shape.
I needed a makeover on all of it! However, taking time away from my kids has always been so hard because I feel the mom guilt. It really helped this time around not being new to the process, so I knew what to expect and after some careful planning and prioritizing, I came up with a plan to get my workouts in without interfering with my family's needs or our daily routines. That meant a lot of 5:30am workouts and a few late nights after we put the kids to bed. Just after the first week, I could feel a difference in my energy level and my mood.
Nutrition has always been the hardest for me. With small kids and enjoying cooking and baking, I really have to make a conscious effort on the choices I make.
The wonderful thing about Hitch Fit is that they teach you how to make good choices (meal prep is key), teach you about balance, teach you to give yourself some grace if you get off track (Full disclosure, I did a few times! I was absolutely not perfect 100% of the time!) and then teach you how to get back on it.
I also love it because there are no magic pills to take – it is just all about making good choices and good 'ol fashioned hard work in the gym.
It is not just a 16-week program, it is training you to keep making good choices, both for your body and your mind, for the rest of your life.
I am so excited to be back on track. Over this past 16 weeks, I have literally felt the fog lift.
Forever grateful for Diana (and Micah), my rock star husband (ladies get yourselves a supportive and encouraging partner!) and my friend Renee, who also rocked her program alongside me!
I cannot wait to get started on my next program to build on what I just accomplished!
Program Choice: Lose Weight